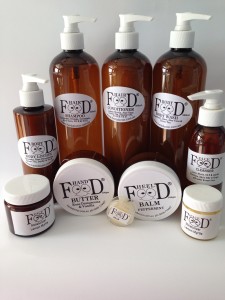 Herb Doctors Food Range of skin care products are made fresh to order with fresh ingredients so you can be sure there are no hidden nasties!  You get to design your own product based on your skin type and fragrance preference.
All of the Herb Doctor Range these products have No Harmful Chemicals, No SLS, No Artificial Colours, No Artificial Fragrances.
First step is to decide on what type of skin you have , choose the best ingredients for your skin type, choose a base oil and email me with your list. A price will be given to you once order comes through & confirmation of bottle size as well.
Please note:  While it is very rare any natural ingredients could harm the skin, sometimes the combination of your skin and your diet may make you more sensitive to some ingredients.  
Some ingredients to choose from are Grapefruit, Lime, Lavender, Rose Damascena, Frankincense, Orange, Peppermint & Lemon Myrtle essential oils.  These ingredients could be blended then with a base of Avocado Oil, Sesame Oil, Wheatgerm Oil, Green Tea & Aloe Vera. The above are only a small selection to choose from!
Herb Doctor can produce any organic skin care, cleaning care or pet care product to order – please complete this form…